So I'm sure most of you are aware of the Cabbage Patch Kids. Being a child of the 80s, I know I definitely was for quite some time. They were everywhere! You couldn't turn on the TV or walk into a department or toy store without being bombarded by walls of the dolls themselves and other licensed products. Lunch boxes, school supplies, shoe strings, board games, bed spreads, and even their own Christmas TV special!
Why am I talking about Cabbage Patch Kids? Why not? HEY! Cabbage Patch Kids weren't JUST for girls, man. Sure, it would've been a little weird if I was walking around with Cabbage Patch Kids shoestrings to accompany my Converse Dinosaur high-tops or if I dared bring a Cabbage Patch Kids lunchbox (complete with thermos) to the school cafeteria… Wait, did I..? Well, I'm not so sure about the lunchbox thing, but you can bet your sweet bippy that I didn't own any Cabbage shoestrings! And yes, I'm shortening the name because typing Cabbage Patch Kids really disrupts my groove. Darn it, I typed it again.
Well, whatever the case may or may not be or not, the Kids themselves favored no gender. They weren't dolls. They were your kids. Made from your own stuffing and plastic. Well, not technically, because you did have to adopt them afterall with the neato certificate that came with each child, but it was yours to care for nonetheless. Is it wimpy or girly to be a father? No. It is not.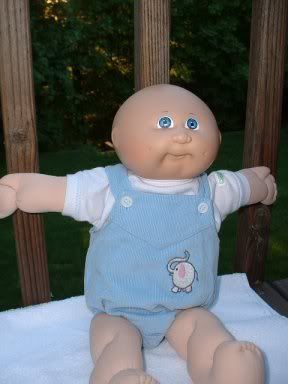 I remember my first (and only) Cabbage Patch Kid was a bald SOB, not unlike Stone Cold Steve Austin. I'm not sure of the exact year, the Kids hit the scene in a big way in 1983, but I'm thinking I got this one a few years later, probably '87 or so which would've put me at 5 for most of the year. It's strange how much we don't remember from the first 5 years of our life, but the random things that we DO remember, such as me eating peanut butter sandwiches for dinner (because there were many times I didn't like what my mom was making) and sitting down in front of the TV and watching Double Dare with the family den's window A/C unit running full blast in our first house. See? Random stuff like that. Heck, I may have even gotten the Kid earlier than '87, but all I know is that the Kid was in my care for quite some time.
It was a double shot from my grandparents as the hype was really spread on thick with our parents telling my sister and I that our grandparents had a "surprise" for us at their house. What could it be? A puppy? A new Sock'Em Bopper (I always got too rough and busted mine)? A snow cone? The anticipation was high! Upon entrance into their house, we were guided into their TV room where what did appear before our eyes but a couple of Cabbage Patch Kids! Was it something I requested? I can't remember, but it didn't matter because you just weren't cool if you didn't adopt a Kid back then. Hey, it was the eighties, okay? We were ALL cutting Pixie Stick dust on mirrors and snorting it.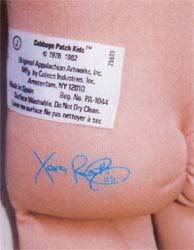 The Kids came with their own official birth certificate and adoption papers and were even creepily branded on the bee-hind by the line's creator, Xavier Roberts. A funny urban legend says that if you returned your Cabbage Patch Kid to Coleco (their manufacturer), they would send you a death certificate. Which would have been hilarious if it was true. Can you imagine being a kid and not only being upset at having to return a defected Cabbage Patch Kid, but then to receive a letter addressed to you informing you of the doll's official exit from the physical world? Hey, ya gotta learn to cope with death.
Of course, over time, as was the case with most of my toys, I lost my Patch's accessories! In this case, the accessories were his clothes. So for many years after, I had a naked CBK sitting in my toy chest, baring his butt-crack, scuffed up plastic head, and non-genitals for all the other toys to see.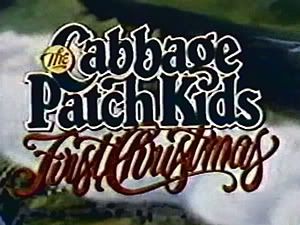 But the Kids didn't stop at just being dolls. My biggest memory of them is watching their Christmas special a million times on recorded VHS… which I still own and watched just this past December. But you don't have to borrow my beat up VHS copy because The Cabbage Patch Kids' First Christmas can be found HERE for free streaming courtesy of AOL. Man, I love the internet. I mean, it's a 80s holiday special based on a toy line from the 80s! How else can you find this stuff?! I love it!
The basic premise is the Kids want to experience the Big City and its 'Chistmas Spirit', so they leave the comfort of their Cabbage Patch and set off for Big City Adventure! But three, nefarious no-goodniks (an old woman, a man-rabbit, and a man-weasel !!!) have plans to put the Kids to work in their mines. Makes perfect sense to use babies for slave labor. And I don't know where these villains came from or if they have any "official" connection to CBK lore. They just kinda popped up in the special without any explanation.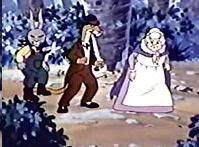 Well, while on the run from these goons the Kids duck out into an orphanage, meet a girl who wants a family to call her own, and by the 22 minute mark, all is well and good. Oops, maybe I should've told you there'd be SPOILERS here. I really love this cartoon, but I'm sure part of that is the nostalgia talking. Someday, when I can afford a VHS-to-DVD recorder…

Next stop… Board games! YES! These vegetable lovin' tykes made their way into my heart for a third time with a couple of games that I got some mileage out of when I was but a boy.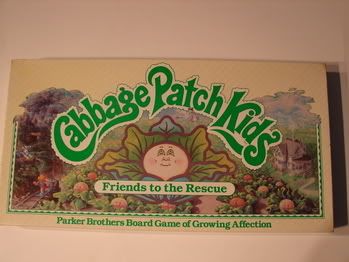 First up is the Friends to the Rescure board game "of growing affection". Hm. Sounds dirty. Okay, I guess the three evil people ARE a part of the Cabbage Patch's official continuity. I just found the game rules for this game at Hasbro's website (a backlog of instructions to every board game they ever made… man, I love the internet even more). The hare is Cabbage Jack and the old woman is Lavender McDade. No mention of the weasel though.
The goal of the game here was to safely bring four Kids back home, because history repeats as Jack and Lavender are STILL trying to get these kids to work their mine. Man, just go down to the unemployment office and HIRE someone to do it for .25 cents a day. Anyway, here's how the game looked: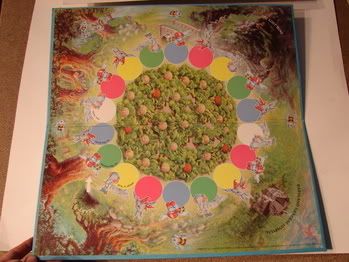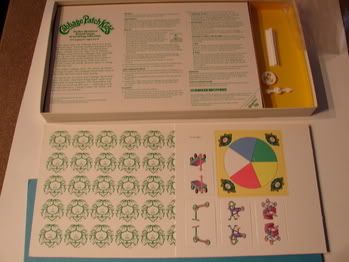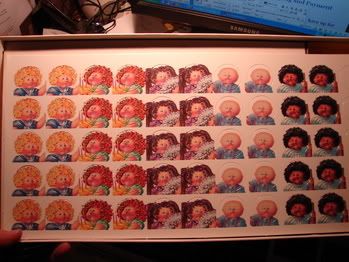 But the Cabbage fun doesn't stop there!
The game I even more fondly remember, if nothing else than because of the commercial, which I ALSO have on the same VHS tape as the Christmas special is the Hide and Seek game. A commercial sums it up

It's pretty simple, so there's not a whole lot of enjoyment to be had with it, but they were bald, naked Cabbage Patch Kids, that's gotta count for something, right?
So that brings to a close this walk down the cabbage patch. The Kids are still around these days (I refuse to make the obligatory 'the Kids are still alright' lame-o comment) after taking a dive in popularity by the 90s. But will they have learned their current makers, Play Along, learn from the failure of Coleco? Will we see the return of the Cabbage Patch Ponies and those abominations to God, the Cabbage Patch Koosas?