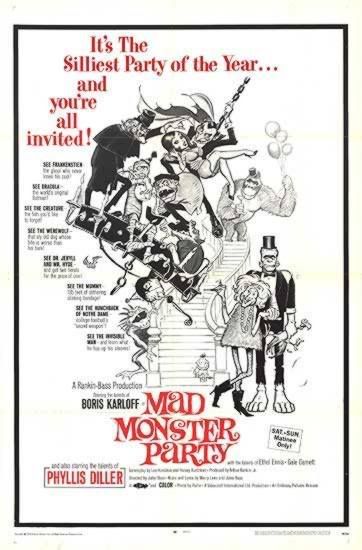 Initially, I was gonna use a bunch of screen caps for this, but I've seemed to have misplaced my DVD copy, even though the DVD case is sitting right in front of me. Oh well. Maybe I can update this one next year. =\
Being the huge fan of Rankin Bass Productions' holiday output that I am (and owning every one of their holiday specials that's been released on DVD), it's no surprise I got got my grubby little paws on Mad Monster Party a few years back. It was Rankin Bass' first (and only) theatrically released stop-motion feature, was released through Embassy Pictures, and opened in March of 1969. MARCH? The month where winter meets spring? Are you flippin' kidding me?! What marketing genius scheduled a Halloween-themed movie to be released in theaters in MARCH?
Sometimes referred to as Mad Monster Party? for reasons not clear to me, the movie was a spoof of the monster films of the 30s, 40s, and 50s using such recognizable characters as Dracula, Baron Von Frankenstein (voice by Boris Karloff!), Frankenstein's Monster, Creature from the Black Lagoon, Wolf Man, Mummy, It (similar to King Kong), Invisible Man, Dr. Jekyll & Mr. Hyde, and finally… Phyllis Diller as Phyllis Diller! Okay, not really, but wouldn't that be scary too? She actually plays the Monster's Bride. Close enough.
The movie was filmed in the typically wonderful stop-motion "Animagic" that the majority of Rankin Bass productions used and of course, what's a Rankin Bass feature without some songs?
I didn't say they were good songs. In fact, if I have one complaint about this movie, it's that it's too 1960s and psychadelic, right down to the hippie-ish skeleton Beatles knock-off band called Little Tibia and the Fibias.
The movie's plot is this:
Baron Von Frankenstein has called a meeting of The Worldwide Organization Of Monsters and tells them all he has decided to step down from the world of monster making and retire. His successor? His nerdy nephew Felix! Of course, most of the monsters aren't happy about this young dorky human boy stepping up to take the good doctor's place within the organization, so they scheme to eliminate Felix once and for all and steal Dr. Frankenstein's latest creation which will help them destroy things. ??? Well, they're monsters, what more of a plan do they need other than to destroy stuff?
It's about the plot though, it's just a really fun monster mash romp and I always enjoy seeing the classic monsters presented light-heartedly and I'm a sucker for stop-motion as well. Not the best Rankin Bass feature ever, but it's enjoyable nonetheless for fans of monsters and Halloween. If you're still not sold, here's the trailer:
The DVD is still in print to this day, in fact, it's at Wal-Mart this season as a part of their Halloween DVD collection, with a special slipcase, for like $11 or something.