As evidenced on this blog and many other sites, the internet is a fantastic place to relive your childhood and to possibly even be reminded of stuff you forgot even existed. You can find something dedicated to most any toy, cartoon, movie or food, but two glaring omissions are Army Ants and Army Gear. There's not a whole lot of talk about'em out there, which is a shame because they were two really cool (and short-lived) toy lines. So, it is with great hope and sincerity that I post this in order to improve Army Ant and Army Gear awareness across the world (Google don't fail me now).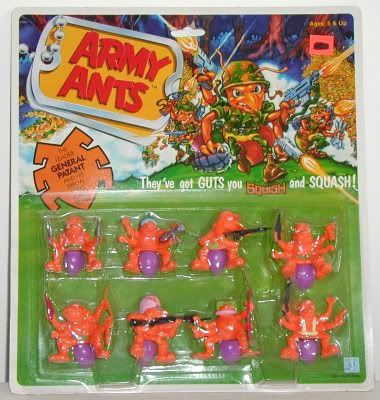 Army Ants were produced by Hasbro in 1987 and, from what I can tell, ended that same year. Seems like most off the wall military toy series (Food Fighters, Barnyard Commandos) didn't last long. Proof positive that people prefer A Real American Hero, but that's not to say the Army Ants line wasn't quality stuff.

I loved'em and the major selling point (and it humored me to no end) was their squishy brightly-colored butts. It was marketed that you could "squish and squash" their guts, but c'mon, we all know it's really their BUTTS. The good guys were the Blue Army (led by General Mc-Anther) with neon green butts and the bad guys were the Orange Army (led by General Patant) with purple butts. You could also pluck their butts right off! I dunno why Hasbro made them that way. I guess because pulling live ants aparts is a favorite pasttime when you're a child?
Just like with the rubber heads of the Masters of the Universe line, for some reason I loved chewing on these butts. Yes, you read that right– I chewed ant butts as a child. It's not like I would destroy them or make teeth marks, I just popped'em in my mouth and chompe for a bit. Weird.
You know what really sucks though? When all you get are the "good guys" of a toy line. I had blue ants, but no orange ants! What gives ?!
Galoob's Army Gear launched in 1988 and was just plain sweet. The toys had two uses: 1) it was actual army gear to run around your backyard and pretend to go to war against your friends with and 2) they were each a play set that would open up and reveal small soldiers inside (think "Mighty Max joins the military"). Being that they came out in 1988, people thought nothing of grenades, machetes and M-16s marketed towards kids. In fact, with a smile and a nodding head, parents willingly gave us this stuff!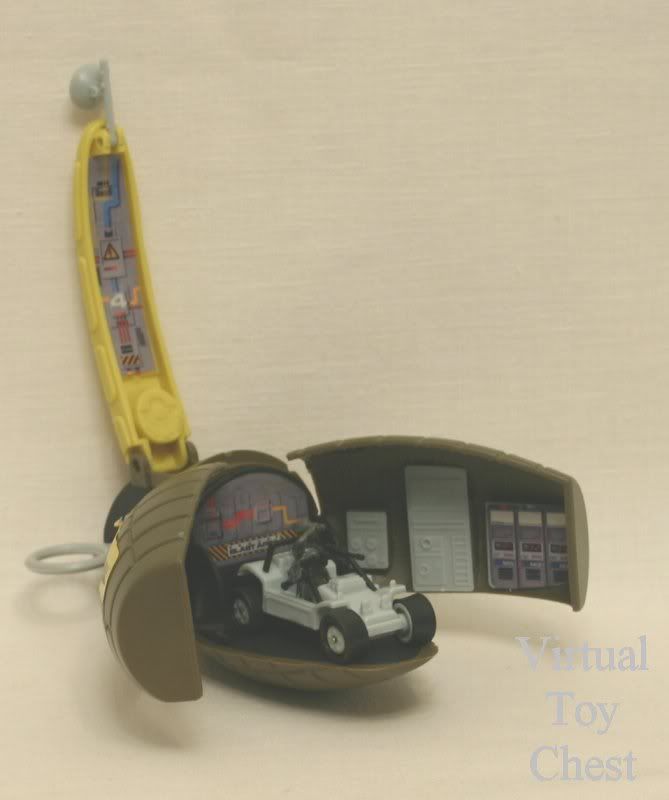 I had the Grenade/Bunker and the Compass/Satellite Station. I remember getting the most enjoyment out of the compass just for the fact that it was something I could wear and I would often suit up in my army coat and hat and stomp around with it on. There wasn't all whole lot to do with the grenade in a pretend war setting (unless I wanted to throw myself on it, I guess). Tossing that grenade would have definitely caused destruction, but not the good kind. The largest play set of the bunch was the canteen, which when opened, would turn into an aircraft carrier, complete with airplane. The packaging for all of these toys was great: it was made up to look like crates.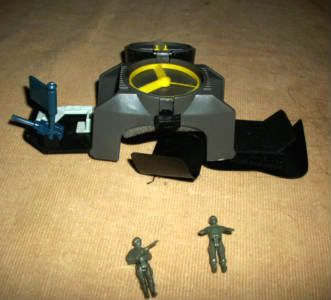 My theory on the failure of Army Gear is that there there really wasn't a need for a bunch of micro-soldiers in a land of much larger military-themed toys (most notably G.I. Joe, of course). The soldiers were just too tiny and could easily be lost, which is probably why Galoob released a TWENTY PACK of soldiers for sale.
I never knew anyone else who had Army Gear and I don't remember seeing it on the shelf for long, but I cherished the two play sets I had and the whole line has really gotten a raw deal from the 80s nostalgia circuit.
Special thanks to Virtual Toy Chest for the use of some of these images.