Since I'm in the mood to talk old time radio, let's move on to what some of my favorite shows are. I was mostly a fan of comedies (and don't kid yourself, OTR was a great era for comedy) but I strayed into action/adventure and mystery shows now and again.
This will be a short running feature on my blog because my list isn't too long (Any bets on how long it will take me to finish this series?) so let's start things off with the first show I ever heard…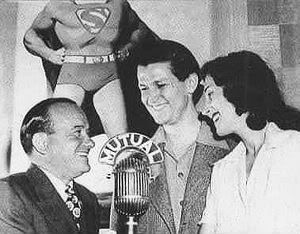 The Adventures of Superman
1940-1951
syndicated/Mutual/ABC
One of the first shows to hook me on OTR, thanks to picking up a cassette at Cracker Barrel. The show was done initially in a 15 minute serial format (with stories running for as long as a month or two) and then switched over to 30 minutes in its final days. The show ran two, three or five days a week during its run.
I had a lot of love for this show just because it was Superman, but I'd be lying if I said I wasn't initially a bit disappointed that Superman didn't really make many appearances. There's not a lot of action in this show, it was really built around Clark Kent as more of a mystery/adventure show (as ABC's Lois & Clark: The New Adventures of Superman was). While it still doesn't make much sense to me to have a TELEVISION show where Superman isn't in action all that much, having grown older & wiser, I can totally see how an investigative reporter radio show works a lot better than an indestructible superhero radio show.