Halloween Scream is my own little contribution to the blogging & pop culture website realm that gets amped up so much in October. If you're looking for past Halloween Scream treats, this is the right place. I've retroactively made a few of these posts Halloween Scream features just because they fit the theme. In fact, I don't even think "Halloween Scream" existed in my mind until 2008, but we can't let Halloween posts from 2007 go to waste, now can we?
2007
Every Zombie Needs Some Zombie Sometimes
Halloween Junk Food
Just in time for Halloween… I'm dusting off the DVDs.
SciFi Channel's '13 Days of Halloween'
Turner Classic Movie's Classic Horror Schedule
AMC's MonsterFest!
The Horrors of Dracula – 7 Poor Choices for the Prince of Darkness
A Tour of Horror
Trick Or Treat – The Original Motion Picture Soundtrack!
HAPPY HALLOWEEN!!
2008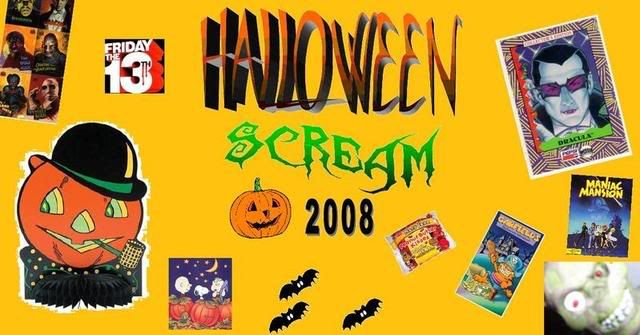 Horror movies I need to watch in October
Turner Classic Movies October 2008 Schedule
Theatrical & Video Horror Releases for September/October 2008
AMC's Fearfest 2008 Schedule
Rating the Halloween Franchise
My 6 Favorite Horror Film Franchises
The Metal Misfit's Horror Movie Schedule
An October Feast
Retro Halloween Ads
Monsters of Wrestling
Monsters of Wrestling II
METAL EXCESS gets in on the Halloween Scream madness!
Monsters of Wrestling III
Mad Monster Party
The Joys of Halloween
HAPPY HALLOWEEN!
Halloween Scream 2008 Dream Schedule
2009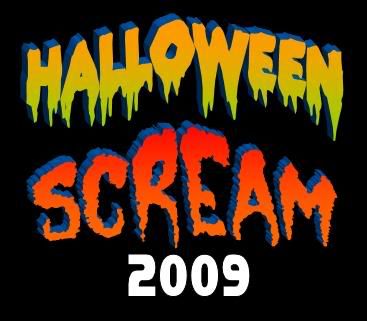 Halloween Dots
Turner Classic Movies October 2009 Schedule
SyFy's 31 Days of Halloween 2009
AMC Fearfest 2009 Schedule
The History of the Universal Monsters
Prepping the Netflix queue for horror movies!
Horror Movie of the Day: He Knows You're Alone
Bad Halloween Treats and Candy
Good Humor Monster Pops… PROOF
McDonald's Halloween Gift Certificates Tray Liners
McDonald's Halloween Happy Meal Pails
The Perfect Halloween Candy… KISS M&M's!
WCW Halloween Havoc
Movie of the Day: Trick 'r Treat
Boglins
Read this book — Universal Studios Monsters: A Legacy of Horror
Count Chocula and Franken Berry… UNLEASHED!
The Ghost of Cereal… Boo Berry!
That's no mummy… That's the Fruit Brute!
That's no Fruit Brute… That's the Yummy Mummy!
Halloween III Masks by Don Post
Movie of the Day: Drag Me to Hell
Good Halloween Candy and Treats
Movie of the Day: The Black Cat
Super Naturals
Movie of the Day: The Raven
Movie of the Day: The Ghost Breakers
Drac-Snax Monster Candy by Topps
NES Horror Game Box Art
WCW Halloween Havoc: 1989-1994
Movie of the Day: The Prowler
Movie of the Day: The Invisible Ray
What Are Your Halloween Plans?
My Two "Go To" Halloween Costumes When I Was A Kid
Movie of the Day: Black Friday
The Return of NES Horror Games
HAPPY HALLOWEEN TO ALL!
My Favorite Universal Monster Movies
2010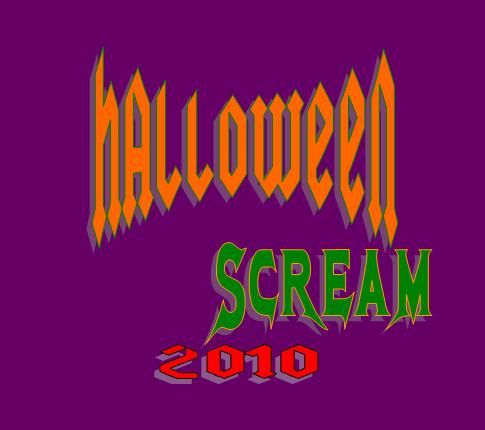 Turner Classic Movies October 2010 Schedule
AMC October 2010 Schedule
Horror Movie Posters
Cereals From Beyond: Halloween Limited Edition
George A. Romero's Survival Of The Dead
The Monster Club
Horror Movie Posters Part II
Masters of the Universe: The Evil Horde Fright Zone
The Ghoul
2011
Turner Classic Movies Horror Movie Schedule for October 2011
Val Lewton/Boris Karloff Double Feature: Isle of the Dead & Bedlam – DVD Review
Oops! Zombies Ate This Page!
Universal Horror Classic Movie Archive – DVD Review
The Boris Karloff Collection – DVD Review
Dracula (1979) – Review
The Mummy – The Legacy Collection – DVD Review
Boris Karloff: Icons of Horror Collection – DVD Review
Monster Dog – Review
The Tomb of Dracula Vol. 1 – Review
The Invisible Man – The Legacy Collection – DVD Review
Universal Cult Horror Collection – DVD Review