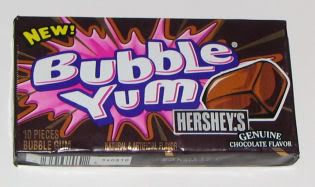 I consider myself a risk taker of sorts. I walk underneath ladders, I let the gas get to empty, I have three pets in my apartment when I'm only allowed two, and I never wipe. So, naturally, when I saw there was a Hershey's chocolate flavored Bubble Yum, I did my best 'Livin' On A Prayer' and said "we'll give it a shot"!
Now, even though the product is supposedly "NEW!", quick research shows this gum actually appeared in 2006, yet the first time I ever laid my baby-blues on it was about two months ago in Target. Maybe it was given regional test runs at first? I mean.. CHOCOLATE FLAVORED BUBBLE GUM?! That's a recipe right out of the 80s!
Upon my initial tearing of the package and wrapper, I took in a deep whif to see if it would even smell like chocolate. Much to my surprise, it did! It did smell like chocolate! But then I realized that maybe it was just my cup of way-too-hot hot cocoa sitting next to me. A closer inspection with the nose (cold and all) did reveal a nice genuine chocolaty smell.
It looks like chocolate, you could probably pass it off as fudge to a blind man, and it kinda smells like chocolate. But does it TASTE like chocolate? The answer is… yes. It's a sugary rush, I'll tell you that, but not disgustingly so. Imagine chomping down on a chewy square of cocoa mix, but honest, it's better than it sounds! Once you hang in a for a bit, you can start to get a taste of the chocolate (after all cocoa isthe 7th listed ingredient on the package). Granted, the ride doesn't last long. Bubble Yum, Hubba Bubba, and Bubblicious and the like are built for speed, but not endurance. Just a minute or two of a flavor blast and then it's onto the next piece.
The Verdict: A piece of gum worth giving a try if you're into weird flavors like I am and a decent novelty gum at that. I can see myself buying more of this.
Perhaps we're in some sort of chocolate gum renaissance because right next to the Bubble Yum Hershey's was…
Dentyne BLAST Chocomint! Maybe someday I'll write about that too.
Now sit back and enjoy this 1970s Bubble Yum commercial featuring the Bubble Fiend! Dude is straight gangster, they need to bring him back.