The Transformers are about to sweep the nation again what with the new movie coming out and we're already seeing a heavy promotional push to cash-in on it all. So hey, why not do a few Transformers posts myself spotlighting my favorites?
It's no secret that as I grew older, my love for the Robots In Disguise tapered off. I guess the super heroics & fantasy elements of Masters of the Universe and the military action/adventure of G.I. Joe struck a deeper chord with me throughout the years while the scifi nature of Transformers hasn't. I've never been a huge scifi fan, so at best, I would have to rank the original TF franchise as my fourth favorite cartoon/toyline of the 80s (Joes, He-Man and TMNT would come first).
But all the hype for the movie sequel actually has me getting excited about the original toys and cartoon (I don't care about this new movie), so here's the characters I liked from that era: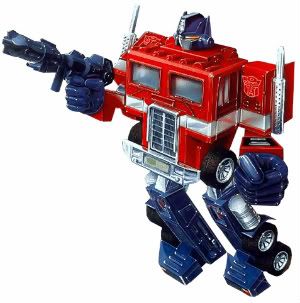 OPTIMUS PRIME
This is a pretty obvious one, everyone loved the TF's answer to Duke, myself included. He was the eldest (or at least sure seemed like it), most responsible of the group, always did the right thing as leader of the Autobots. Watching the 1st season on DVD just makes me hate the movie version that much more. His G1 design is so simple and so classic and and the CGI version is a convoluted mess.
Optimus Prime was my Holy Grail. I had friends down the street that had him, but he never made his way to MY house around Christmas or my birthday. There's a 25th Anniversary Edition of Optimus that has been released but it's like $60.